Tanners Brook children open new ALDI store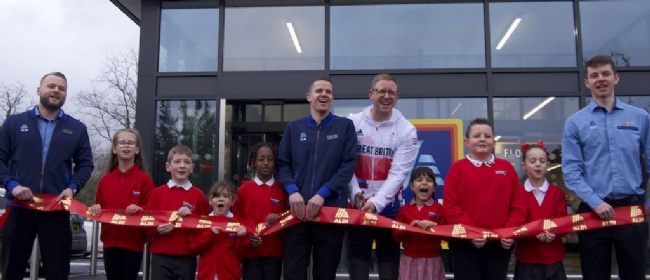 Pupils from Tanners Brook primary school were invited to officially mark the opening of a new ALDI store which opened on Thursday 30 March.
Seven pupils from Tanners Brook launched the opening of ALDI in Auckland Road, Millbrook. The opening was marked by pupils cutting the ribbon alongside paralympic gold medallist Aaron Phipps.
A year five pupil said: "It was so much fun cutting the ribbon with Aaron Phipps."
Headteacher Ingrid Dowse said she loves seeing the pupils get involved in a vibrant community.
She added: "It was lovely to have had a handful of our students invited to the opening of the ALDI launch. As a school we feel it's important to be at the forefront of the community.
"Encouraging our pupils to engage in their local community is a really key part of their development. It builds confidence and improves their social skills."
The inspirational Paralympian later visited the school to meet the children during an assembly.
Tanners Brook Primary School is part of our family of schools across the wider Hampshire, the Isle of Wight, Southampton and Portsmouth.