Tanners Brook Primary 'Castle Day'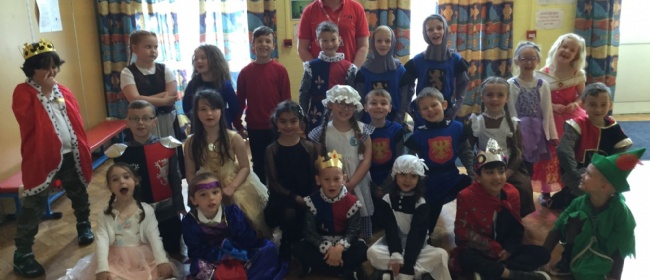 This half term, in Year 2, the children have really enjoyed our topic about Castles.
They have learnt about different types of castles such as Motte and Bailey and medieval. Time has been spent researching different people who lived and worked in castles. Within our writing sessions, we have published two small booklets: one about people who lived in a castle and the other about the different parts of castles.
We have ended our topic with a wonderful 'Castles Day'. The children dressed up in a wide variety of costumes that ranged from kings and princess to servants. Well done to everyone for your creative costumes, especially the home-made accessories. The children enjoyed learning how to be a cook in Cooks School, how to fight with a sword in Knights' School, how to entertain the Lord and Lady in Jesters' School, and how to dance in medieval style in Court Dancing School. We ended our very busy and exciting day with an afternoon banquet that included the food that would have been freely available in medieval times.
In English, the children have greatly enjoyed our story writing this half term around the books by Kristina Stephenson about Sir Charlie Stinky Socks. They created their own characters, settings and wrote their own stories. They have also enjoyed our study of Zog by Julia Donaldson who is a significant children's author. Zog is the third book by this significant writer that we have studied this year. We have ended this half term with a short novel by Dick King Smith called 'Omnibombulator'. The children have enjoyed immensely the study of the book about a very small beetle with a very big name.
In maths we have been learning to identify numbers in a highly visual way. We have been using a teaching programme that leads to the children developing a deep understanding of number and number relationships, as well as learning to be fluent in addition and subtraction facts. We have also been learning about fractions where we have enjoyed solving problems. We now appreciate that two quarters is equivalent to one half as well as each being able to identify a fraction of a whole. We have had fun exploring measures including length and height.