A challenging & successful year for the SCITT program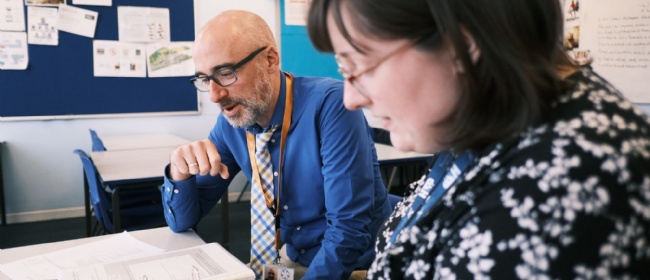 The Hampshire SCITT Partnership's 2019-2020 cohort of secondary trainees has just completed their training and they have been recommended to the DfE for Qualified Teacher Status.
It has been a challenging year for all training providers but, working together with our partner schools, when schools "closed" on 23 March, we were able to move seamlessly to blended training. Many of the trainees continued to work with their schools, delivering remote lessons and participating in joint planning. All the trainees engaged with weekly tasks which were a mix of online learning, reading and reflection on their development as teachers. The SCITT has a very close relationship with HISP Research School, also based at Thornden, so our trainees benefit enormously from having ready access to the best current research.
In a very challenging job market, with over 5000 fewer vacancies being advertised than at this time last year, almost all our trainees have secured full-time teaching posts for September and, as always, we will continue to support those trainees who are still seeking jobs. Each year, all our trainees gain posts and typically 85% of them are employed by our partner schools. As a SCITT, our aim is to train and retain highly effective teachers and we are proud of the significant contribution we make to teacher recruitment and retention in Hampshire.
We are now looking forward to our 2020-2021 training programme and excited to be welcoming 40 secondary trainees in September. One of the strengths of our excellent partnership of schools is that we are able to work with many of the same mentors each year but we are always happy to extend our mentor team. We will be delivering remote mentor training before the end of term with a particular focus on supporting trainees through the new ITT Core Content Framework.
An interesting new venture for us this year has been to work in partnership with Researchers in Schools (RIS), the world's only teacher training programme exclusively for those who have completed a doctorate. These trainees are subject experts in secondary school EBacc subject areas. They complete our training programme but also engage with the RIS programme which provides specific training that enables participants to add value to their schools by delivering an impactful Pupil Premium intervention for most-able pupils and championing university access. We will continue to work with RIS next year, with three trainees in Southampton Schools.
We will continue to look for new opportunities to work with partners who share our vision and in 2020-2021, we will form a partnership with the Portsmouth Teaching School Alliance, sharing with them the training of their Design and Technology trainees.
We know that, as a result of the Covid-19 crisis, all teachers will face considerable challenges as schools welcome pupils back in September after a period of almost six months. For that reason, the Hampshire SCITT Partnership is proud to be contributing to the delivery of a support programme for early career phase teachers across Hampshire. Trainee teachers and newly qualified teachers have had their training cut short this year and they will need support in bridging the gaps in their knowledge and skills. With this in mind, from September, a team of experts from a partnership between The Hampshire SCITT Partnership, HISP Research School, HISP MAT, and HISP Teaching School Network will be providing a package which will be run in addition to any support put in place by schools and other providers.